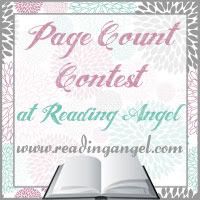 I had a lot of fun doing this contest this month, but I never actually got placed in the Top 20 or Top 10 any week. It amazes me how much people can read in a week. I'm a slow reader by comparison, so no way could I read up to 3,000 pages per week. I also got super busy near the end of April so that cut down my reading some.
Anyway, below are the books I planned to read and what I actually read:
A Lady Never Surrenders (Hellions of Halstead Hall #5) by Sabrina Jeffries (416 pages)
Lover Unbound (BDB #5) by JR Ward (502 pages)
Lover Enshrined (BDB #6) by JR Ward (534 pages)
Lover Avenged (BDB #7) by JR Ward (527 pages)
Immortal Rules (Blood of Eden #1) by Julie Kagawa (485 pages)
The Peculiars by Maureen Doyle McQuerry (354 pages)
Bonds of Fenris by S.J. Bell (223 pages)
Dearly, Departed (Gone with the Respiration #1) by Lia Habel (470 pages)
Lure of Shapinsay by Krista Holle (260 pages)
Total: 3,337 pages
For May:
Angela at Reading Angel is actually continuing the Page Count Contest, so I signed up again. Hopefully I'll be able to read more in May and actually get a place in the Top 20.
*Remember to re-follow via GFC since I changed my url/domain. I'm not sure if you have to re-follow but please check just in case. If you do, feel free to unfollow my old domain: http://readingbykindlefire.blogspot.com