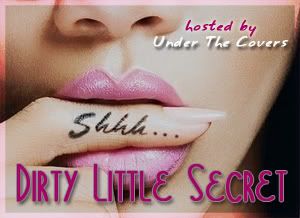 Dirty Little Secret
is a weekly meme hosted by us at
Under the Covers.
Every Thursday we get to know other bloggers and our readers more intimately by asking them a question hoping to reveal their dirty little secrets. We hope that you will all join us!

To participate in the meme all you need to do is:

1. Be a follower of Under the Covers.
2. Create a post in your blog taking the meme image (code above) and copy instructions.
3. Answer the question we propose! This can be done in any way you like, post a video, write a post etc.
4. Then add your link below.

Non-bloggers: We want to hear from you as well!!! Let us know your answer in the comments!

We hope you join us and let us know your Dirty Little Secrets!
" All your favourite characters and celebs have been entered into the SEXY OLYMPICS! Who would win your Gold, Silver and Bronze and why"
Pick only characters from books you've read THIS year. "
Answer: Oh man, the ladies at UTC always come up with these super difficult questions. How am I suppose to rate my favorite heroes?
OK, here goes nothing. No hard feeling! All my heroes know I try to love them equally!! *looks fearfully at her contenders*
Bronze: Lothaire. Omg Lothaire is the perfect anti-hero! His book blew my socks off. If you haven't met the Enemy of Old, then you're missing out! And the cover for the book fits my image of Lothaire perfectly! Who'd think red eyes could be hot right?
Silver: Paris. He's hit all my hot buttons since I first met him in the Darkest Night! He's possessed by the demon of promiscuity. If he doesn't get a medal for that, I don't know who will.
Gold: Bones. So I came to the Night Huntress series a bit late, but I've officially caught up (minus the side books), but CHAPTER 32!! among others of course! And his British accent! Master Vampire! every time he says "bloody" I drool a little! He's definitely the top of my list!
Picking only 3 is like cruel and unusual punishment. Other contenders include: Vlad, Raphael and Dmitri from Guild Hunters, William the Ever Randy, Daemon Black, Gideon Cross. OMG, I need to go before I change my answers for the third time!