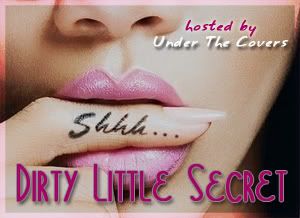 Dirty Little Secret
is a weekly meme hosted by us at
Under the Covers.
Every Thursday we get to know other bloggers and our readers more intimately by asking them a question hoping to reveal their dirty little secrets. We hope that you will all join us!

To participate in the meme all you need to do is:

1. Be a follower of Under the Covers.
2. Create a post in your blog taking the meme image (code above) and copy instructions.
3. Answer the question we propose! This can be done in any way you like, post a video, write a post etc.
4. Then add your link below.

Non-bloggers: We want to hear from you as well!!! Let us know your answer in the comments!

We hope you join us and let us know your Dirty Little Secrets!
" With the upcoming release of MAGIC MIKE where some of the hottest guys strip nekkid and shake their ummmm assets, we want to know YOUR fantasy cast! If you could choose six of the hottest stars to shake their moneymakers for you, which guys would it be? "
Answer:
So I had to look up what this show is. For real guys, I'd keep Channing Tatum, Joe Manganiello, and Alex Pettyfer. I'd definitely add Alexander Skarsgaard, Henry Cavill, and Chris Hemsworth.
The 6th one was soo hard to pick, since there were so many other candidates!
And because this is my all-time favorite picture ever: