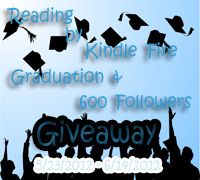 It's been a while since I did a giveaway! Now that I just graduated, it's the perfect time for one. Also, I've reached 600 followers since my last giveaway as well.

This is a HUGE thanks to all my followers and readers!! I can't believe it's been more than 6 months since I started this blog!!

Rules:

1. The giveaway will run from 12:01am 5/23 - 11:59pm 6/14.
2. There will be two winners.
3. Each winner will receive a book of their choice worth up to $10 from the Book Depository.
4. You must be 13 and up to participate.
5. As long as TBD ships to your country, this giveaway is international!

That's it! All you have to do is fill out the form below!
a Rafflecopter giveaway