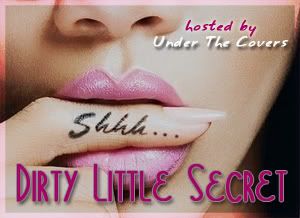 Dirty Little Secret
is a weekly meme hosted by us at
Under the Covers.
Every Thursday we get to know other bloggers and our readers more intimately by asking them a question hoping to reveal their dirty little secrets. We hope that you will all join us!

To participate in the meme all you need to do is:

1. Be a follower of Under the Covers.
2. Create a post in your blog taking the meme image (code above) and copy instructions.
3. Answer the question we propose! This can be done in any way you like, post a video, write a post etc.
4. Then add your link below.

Non-bloggers: We want to hear from you as well!!! Let us know your answer in the comments!

We hope you join us and let us know your Dirty Little Secrets!
"If your blog crew (or if it's just you, then you are a pack of one) could make up their own pack, what name would you call yourselves and what animal pack would it be?"

Answer: Wow, where do you come up with these questions? Well, I'm the lone animal, so I guess it fits that I'd want to be some kind of feline. I love the lazy and sinuous image I get of felines whenever I read a shapeshifter book.

I would love to be either a panther or a leopard.

As for the name, I have no idea. I'm terrible at coming up with names. How about Kitties for Hire? Because if I was a shapeshifter, I'd be pretty badass, I hope!